Vacation Bible School
For several years, the Clark Fork SDA Church has offered a free summertime Vacation Bible School (VBS), usually in mid-June. Children ages 4 through 12 are invited for crafts, music, singing, cooking in the kitchen, games, stories, exercises, and learning about other countries. Each year, a theme sets the week's activities.
Annual Fourth of July Parade
Clark Fork is proclaimed to be one of North Idaho's most beautiful getaways. Located on U.S. Highway 200, just 6 miles from the Montana border and 25 miles from Sandpoint, the Clark Fork River empties here into Lake Pend Oreille via a natural wildlife delta that is part of the Pacific corridor for migrating birds. It is surrounded by the Cabinet range of the Rocky Mountains. Clark Fork still retains many vestiges of the old American West. Wildlife abounds in the Clark Fork Valley. The Clark Fork River is a major spawning tributary of many fish species.
With a population of about 350, the place is said to still have that small town charm, where the most hustle and bustle is the elk and deer playing in the meadows. However, on the Fourth of July every year, the population swells by at least 2,000 people for a memorable parade, with people coming from as far away as Alaska and Massachusetts. Trophies are awarded for the best floats, followed by foot races, food, and raffles at Clark Fork Junior/Senior High School. Ice cream and snow cones are plentiful.
Every year under near perfect blue skies, for more than 10 years, the Clark Fork Seventh-day Adventist Church float has been a proud participant in the parade. Our float sports a white picket fence and summer garden, with 15 church members, including the Church Ensemble playing lively traditional patriotic hymns. Other members walked alongside, taking advantage of the occasion to pass out Glow tracts, to spread the gospel and inspire believers. Church participants enjoy an Independence Day potluck lunch, welcoming holiday visitors and red, white, and blue fellowship. We celebrated Liberty, praising the Lord for many blessings.
Heavenly Music
Our Seventh-day Adventist Church is richly blessed by musical talent in our midst. Frank Thieme, one of our oldest members, gifts us with tunes on his "balitar." Every Sabbath when he is able and available, Frank plays from his long list of classics and hymns between Sabbath School and Sabbath Service. Our Sanctuary is hushed by his special music, which helps to generate a reflective heart and prayerful interlude.
Many are familiar with the traditional Russian balalaika, with its wooden, triangle-shaped body and usually three strings. Frank's instrument is similar, but not the same.
As a younger man, Frank took a few guitar lessons and took off from that point on his own, mastering how to play. In the meanwhile, he built his own motorcycle repair business. A craftsman, he decided to seek help from a local, renowned guitar maker to build his dream instrument, his balitar. In exchange, he repaired the man's motorbike!
We welcome visitors, and everyone can enjoy hearing Frank's amazing music.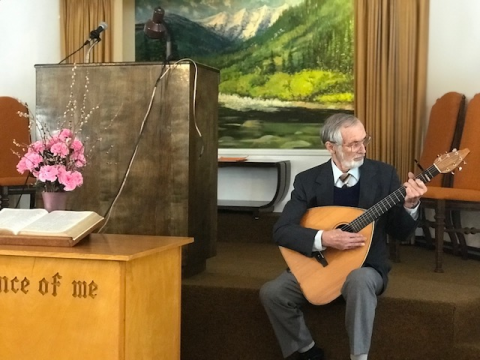 Church Ensemble
Come Join Our Band!
Our little church always is looking for more band members. We have a very active group. Maybe you have seen us in the Clark Fork 4th of July parade?
Will you consider coming over and practicing with our members on Saturday afternoons for an hour or two? You will get a really good free lunch, too, if you want!
Call Sheri or Manfred at 406-847-2078 for more information.